What is Hoodstock?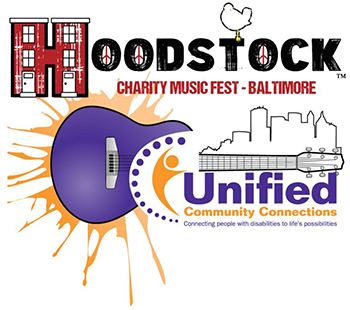 Unified Community Connections' annual fundraiser isn't a traditional gala, and we think that's a good thing! Hoodstock is a grassroots music festival based on the folk-rock music scene of the late '60s and '70s. Our motto is, "Just say no to black tie and yes to tie-dye!"
Local bands, including event headliner Roses n Rust, perform an eclectic mix of classic and contemporary rock, pop, soul, blues and country music. Join us for a laidback, family friendly evening dedicated to helping Unified continue its mission to support people with disabilities.
Tickets on sale NOW!
Save the Date for Hoodstock XIX!
WHEN
Friday, November 18, 2022, 7-11 p.m.
WHERE
WHAT
Good Food, Live Music, Dancing, Silent Auction and More!
SUGGESTED ATTIRE
Casual – Break out your tie-dye and bell-bottoms!
Need more information?
Contact : Lauren Bussard
Director of Development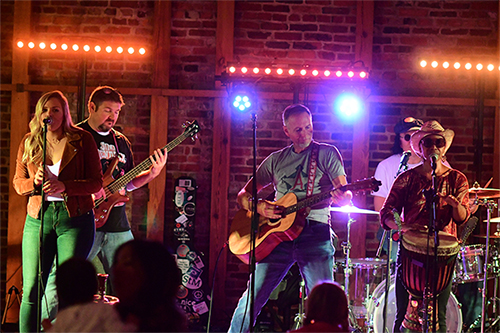 Peace & Love
Thank you to everyone who supported Hoodstock XVIII. This event would not be possible without our guests, donors, sponsors, musicians, planning committee, staff and volunteers. We raised over $84,000 thanks to your generosity and help.
Special thanks to Russ Causey, the founder of Hoodstock and the leader of Roses n Rust, the headlining band for Hoodstock. He and all of the musicians who perform at Hoodstock play for free, and many have a direct connection to the mission of Unified Community Connections.
Learn More About Hoodstock!
Thank You to Our 2021 Sponsors
Rock Star Royalty
Jen & Russ Causey
Tie Dye Diamond
Melanie Dorsey, in memory of Mary Elizabeth Beukema
Peace and Love Platinum
Maury Donnelly & Parr, Inc.
Anita & Nick Richardson
Saiontz & Kirk
Flower Power Gold
ALCO Pharmacy
CMD Outsourcing Solutions, Inc.
Diane & Dave Coughlin
M&T Bank
Josie Raney & Brian Lund
Groovy Silver
Abacus Staffing
Amicci's of Little Italy
Aquanetta & Jim Betts
Kathy Bradley & Sandy Goodman
Chesapeake Telephone Systems
Coach & Equipment, Inc.
Firstrust Bank
Gorfine, Schiller & Gardyn
Lenny Kline
Metro Data, Inc.
NetCraftsmen, LLC
Scott Panian
Sandy Spring Bank
Synergy Comp
"Be Cool" YETI Cooler of Cheer Champion
Emily Sutorius, State Farm Agency
Media Partners
100.7 The Bay
Baltimore Magazine
FASTSIGNS of Owings Mills
SouthBMore.com
Far Out Bronze
Sheri & Barry Brill
Dataprise
Goldsborough Independent Insurances Services
Kennedy Services
Matt Lenihan
Leah & Jeff Maddox
Gracie & Larry Musher
Risk Management
Carol Sholes & Bob Wallace
The Spurrier Family
Drink Partners
Anthem Bay Brewing Company
Checkerspot Brewing Company
Santo Tequila
SoBo Cafe
Very Cool Friends
Ankura
Julie & Nathan Carper
The Cooper Family
Rob Freedman
Pauline & Barry Hildebrandt
Linda Lampkin
Offit Kurman | Attorneys at Law
Roll Up N Dye
Jane Schlegel
Ultimate Kronos Group
Noelle & Rob Wahl
Williams Home Remodeling