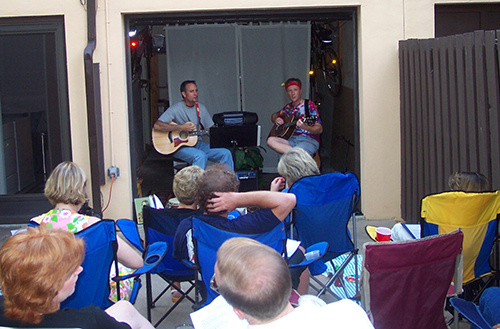 Humble Beginnings
Our annual Hoodstock fundraiser was founded by Russ Causey in 2004. Russ had been playing guitar for about a year, and he thought it might be fun to have a party and put on a show in his Otterbein neighborhood. He turned his garage into a makeshift stage, invited a few of his musician friends, and he and his wife, Jen, and their neighbors Larry and Gracie Musher hosted the first Hoodstock(with no charity affiliation) in their backyards.
A tradition was started. The following year, neighbors passed a hat, and the money was donated to Unified Community Connections. From these humble beginnings, Hoodstock grew into a major fundraiser and has raised more than $893,000 for people with disabilities.
Russ has led Hoodstock since its inception and become an experienced musician and performer. He founded the band Roses n Rust in 2013 and enjoys a busy gig schedule.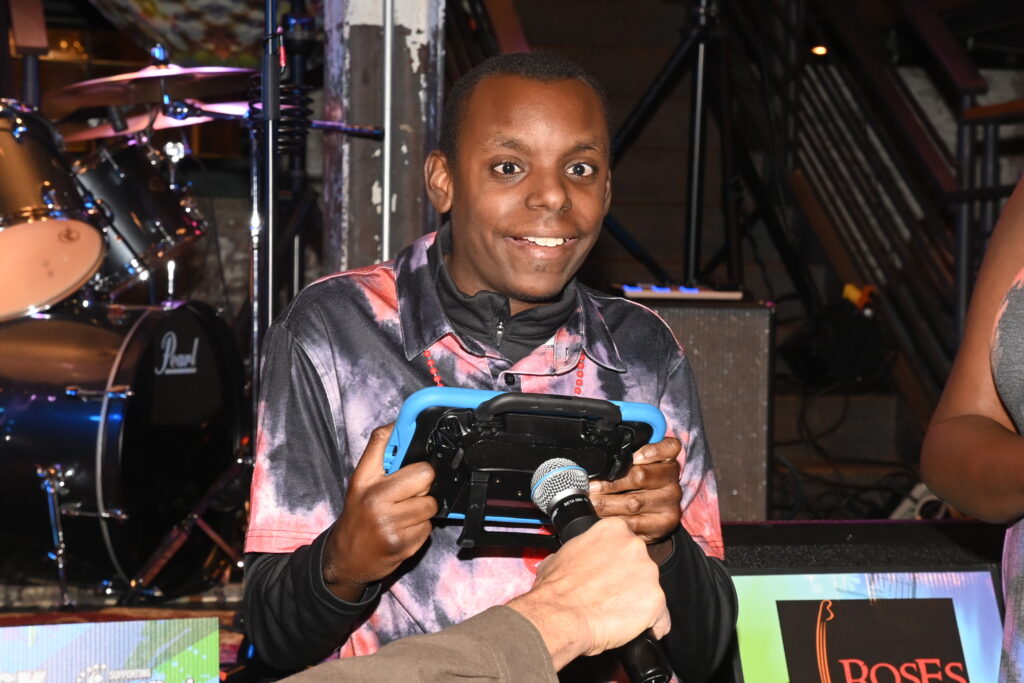 The Can Do Award
A highlight of Hoodstock is the presentation of the Samuel A. Tucker Memorial Can Do Award, an award given to an individual who receives services from Unified and demonstrates a determination to live their life to the fullest. Congratulations to Jerel Layne, recipient of the 2022 Samuel A. Tucker Memorial Can Do Award. Jerel, who has an intellectual disability that makes his speech difficult to understand, has worked monthly for the past eight years with Unified's Assistive Technology Services to learn and practice with a Nova Chat communication device. Jerel demonstrated the device's functionality when he spoke at last year's Hoodstock XIX upon receiving his award, with family and friends cheering him on.
The Can Do Award was created by Rebecca Tucker in memory of her husband Samuel A. Tucker, an individual with cerebral palsy who led a life exemplified by his determination to not let his disability define him. Among his many accomplishments, Samuel tirelessly advocated for himself and other people with cerebral palsy. He ran his own private law practice for more than 30 years.
Hoodstock History
2023
Hoodstock returns to The Winslow. Tickets go on sale now – click here to buy!
2022
Hoodstock raises a record-breaking $106,000, officially raising $1 million since Hoodstock started in Russ and Jen Causey's backyard 19 years ago!
2021
Hoodstock moves to The Winslow and hosts its first hybrid event featuring live in-person performances streamed live on YouTube. More than 220 people attend in person and 180 participate virtually, raising over $84,000.
2020
Due to the COVID-19 pandemic, Hoodstock hosts its first virtual event, raising $80,000 and attracting more than 1,200 viewers from at least 12 different states as well as Thailand, Australia, Canada and the United Kingdom.
2014 – 2019
Hoodstock is held at the American Visionary Art Museum. In 2019, Hoodstock has more than 350 guests and raises $93,000.
2011 – 2013
Hoodstock is held at the B&O Railroad Museum. In 2013, more than 420 guests attend Hoodstock and raise over $79,000.
2006 – 2010
Hoodstock is held at the Otterbein Swim Club. In 2010, 187 guests attend Hoodstock and raise $20,300.
2005
Hoodstock becomes a fundraiser for Unified Community Connections. Still a backyard party in Otterbein, about 70 guests attend, and the event raises $1,200.
2004
Otterbein neighbors Russ and Jen Causey and Larry and Gracie Musher host the first Hoodstock (with no charity affiliation) in their backyards. Russ and a few friends perform.