Unified Community Connections' No Boundaries Assistive Technology Center offers comprehensive assistive technology services to children and adults with communication difficulties. These services are provided to individuals with any disability resulting in a speech-language deficit, including but not limited to cerebral palsy, traumatic brain injury, amyotrophic lateral sclerosis, Down syndrome, carpal tunnel syndrome, spinal cord injury, intellectual disability, learning disability, multiple sclerosis and autism. With Unified's support, individuals access alternative strategies for speech and writing, enabling them to function and live more independently.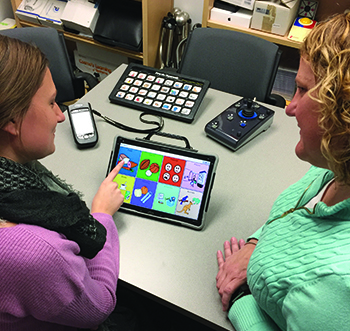 Unified's Assistive Technology Services Include:
Augmentative and Alternative Communication (AAC) Assessments and Training
Speech and Language Assessments and Therapy
Computer Access Assessments and Training for Individuals with Cognitive and Physical Deficits
Computer Software Recommendations for Individuals with Reading, Writing and Spelling Deficits
In-services Providing Information and Training on AAC and Assistive Technology
Assistance Securing Funding to Purchase AAC and Assistive Technology Equipment
Schedule an Appointment
We look forward to working with you to find the best assistive technology options for you or your loved one. To schedule an appointment, complete the AT Referral Form and return to Angela Strauch Lane.
Pay Online
Pay your invoice for Assistive Technology Services online using PayPal's servers. Click the button below and pay by credit card or through PayPal.
Submit Payment
Need more information?
Contact : Angela Strauch Lane
Director of Assistive Technology