Hoodstock XIX Tickets on sale NOW!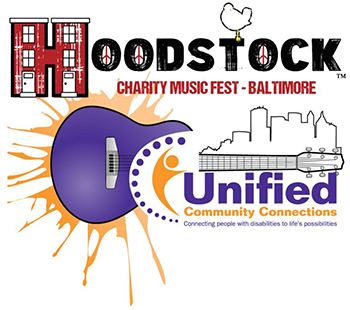 September 2022
Join us for Unified Community Connections' signature concert fundraiser, Hoodstock XIX, on Friday, November 18 at The Winslow from 7:00 pm to 11:00 pm. Early Bird Tickets are on sale NOW for $40. Click here to buy yours today!
Here's what you need to know…
When: Friday, November 18, 2022
Where: The Winslow
333 W. Ostend St., Baltimore, MD 21230
Free onsite parking available
Time: 7:00 pm – 11:00 pm
What's Provided: Live music from the '60s and '70s, dinner, dancing, raffles, and an online silent auction.
Roses n Rust will headline Hoodstock XIX and cover both classic and modern artists from the '60s, '70s and today. In addition, there will be a performance by The Wafflers, and local celebrity O.J. Brigance, senior advisor for player development for the Baltimore Ravens and former Unified Community Connections board member, will present this year's Samuel A. Tucker Memorial Can Do Award to an individual who receives services from Unified and shows great strength and determination despite their disability.
"Hoodstock is the laidback concert fundraiser where guests just say no to black-tie and yes to tie-dye," said Amy Kreitz, president and CEO of Unified Community Connections. "Dig out those bell-bottoms or come as you are to rock out at The Winslow in support of a great cause."
Hoodstock started in 2004 as a neighborhood event and has since grown into a major fundraiser to benefit Unified Community Connections in supporting people with disabilities. Last year's hybrid event raised $84,000 with more than 200 people in-person and hundreds more viewing online. We're excited to be back fully in-person for this year's event while in accordance with all current Baltimore City COVID-19 guidelines.
Early Bird Tickets are on sale now for $40 through Sept. 30 – click here for tickets! Price will increase to $45 beginning on Oct. 1 and increase again to $50 on the day of the event. For more information, visit www.unified.org/hoodstock or www.facebook.com/hoodstock or contact Lauren Bussard at lbussard@unified.org or 443-449-2461.